What is Mead? Learn About Honey Wine - The World's Oldest Alcohol
What is Mead? Honey, water and yeast!
When people hear that mead is made from honey they usually think it will be an overly sweet drink, but that's not always the case. Mead is one of the most versatile alcohols available. Sugar ferments into alcohol, the more sugar the more alcohol. Honey is incredibly dense with sugar so it makes a great starting point for mead.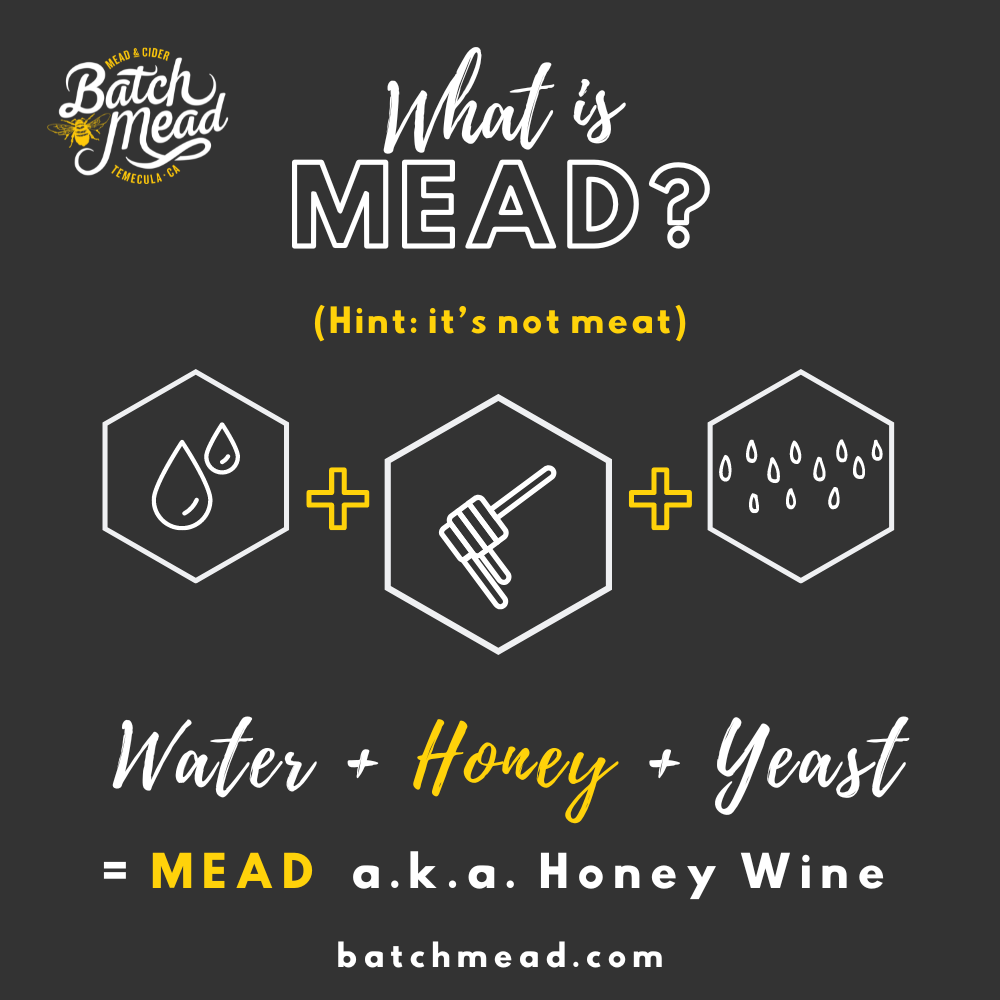 Is Mead Always Sweet?
The sweetness you might taste in a sweet mead is from the "back-sweetening". Back-sweetening is adding honey back in after the fermentation is already complete. This allows us to control the sweetness level of mead, if no honey is added back in, then the mead will be very dry with little residual sweetness.
With alcohol percentages ranking from 4% all the way up to 20% for some barrel aged meads, it can be a heavy hitter.
IS MEAD MORE LIKE A BEER OR WINE?
Mead is more like wine in terms of process, but no grapes are used in the mead fermentation. Mead is typically made solely from honey, water and yeast. The beer process requires boiling of grains, honey is only warmed to make mixing easier.
IS MEAD JUST HONEY WINE?
Mead is made from fermenting honey, it must be 60% or more fermented honey to be considered mead. Honey wine is a catch all phrase that can refer to mead or to wine (sometimes grape-based wine) that has honey added. The mead community gets annoyed when they see the words "honey wine" because it sometimes refers to "non-mead" products.
IS MEAD HEALTHIER THAN OTHER ALCOHOLS (WINES, BEERS & LIQUORS?)
Technically all the health benefits of honey are present in mead unless the mead maker boils the honey (typically called a bouchet). Honey is known to contain antioxidants, minerals and antibacterial properties. All our meads at Batch are heated no higher than 110 degrees to maintain the integrity of the honey.
Mead is a fairly straightforward process, much like wine, but there's lots of room for error in each step. Typically you take honey, mix with warm water and add yeast. The ratio of honey to water will determine the alcohol percentage (as well as the aggressiveness of the yeast). Once the fermentation is complete, more honey or fruit is added to add complexity.
Learn about all the different types of mead in our article about mead types.
WHERE CAN YOU BUY MEAD?
Since mead is considered a wine, you can buy mead online direct from a meadery or you can see if your local liquor store carries mead. Mead is typically sold in bottles and cans. You can buy mead online from many award-winning meaderies. If you're ready to try? Order Mead from Batch Mead, a small batch craft mead producer in Temecula, CA.