How Many Glasses of Wine in a Bottle?
5 glasses of wine are in a standard bottle of wine, which has 750ml or 25 fluid ounces per bottle. For Magnum bottles, there are 10 glasses of wine, 1.5L or 50 fluid ounces.
Do you ever find yourself wondering how much wine is in a bottle? Never fear; if you're a wine drinker (or mead drinker!) and are curious about how many glasses of wine can be poured from an ordinary bottle -- we've got the answer for you!
From standard 750 ml bottles to larger magnums and splits, we'll share just how much vino is hiding inside a particular container. We've done the math for you so pour a glass (or two), sit back, and take it all in: we're about to discuss how many glasses of wine can come from one bottle. Cheers!
What Are the Different Sizes of Wine Bottles?
Wine bottles come in different sizes that fit specific occasions and needs. The standard size is the 750ml, which is equivalent to five glasses of wine.
If you're celebrating a special occasion or want to give a gift, the magnum bottle might be perfect for you. It can hold up to 1.5 liters or two bottles of wine.
For intimate dinners or dates, the half-bottle, also known as the Demi, can serve two to three glasses of wine.
If you're looking for a portable option, the single-serve or mini bottles can hold about 187ml or one glass of wine. You can easily transport them to picnics, music festivals, or wherever your adventures take you. Knowing wine bottle sizes can help you choose the right one for the occasion and prevent wastage.
Split - 187ml or 6.2 fluid ounces of wine
Demi - 375ml or 13 fluid ounces of wine, also known as a half bottle
Standard - 750ml or 25 fluid ounces of wine
Magnum - 1.5L or 50 fluid ounces of wine
Jeroboam - holds 4 bottles of wine
Rehoboam - holds 6 bottles of wine
Imperial - holds 8 bottles of wine
Salmanazar - holds 12 bottles of wine
Balthazar - holds 16 bottles of wine
Nebuchadnezzar - holds 20 bottles of wine
Solomon - holds 24 bottles of wine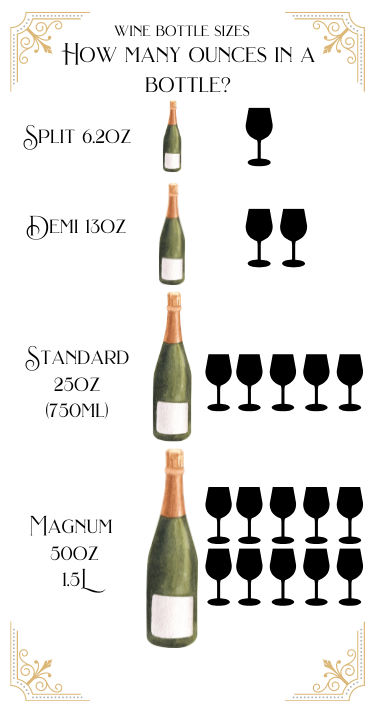 At Batch Mead we use three bottle sizes, 375ml (the demi wine bottle), 500ml (2/3 the size of a standard bottle) and 750ml standard bottle. We choose bottle size based on sweetness of the mead, how we want the product to look and if it's still or sparkling mead.
How Many Ounces in a Glass of Wine?
Standard wine pour in the US is 5 ounces per glass

Dessert wine pour is typically 2 ounces per glass
Did you know that the number of ounces in a glass of wine can vary? Check out some of the wine pour sizes by country:
Australia's standard wine pour is 3.4oz

Austria's standard wine pour is 7oz

Canada's standard wine pour is 5oz

France's standard wine pour is 4-5oz

Italy's standard wine pour is 5oz

Spain's standard wine pour is 5oz
While a standard serving size of wine in the United States is typically considered to be five ounces, it's not uncommon to find glasses that range from four to eight ounces.
This can make it tricky when trying to keep track of just how much you're drinking, especially if you're trying to watch your alcohol intake. Cheers!
How Many Ounces in a Glass of Mead?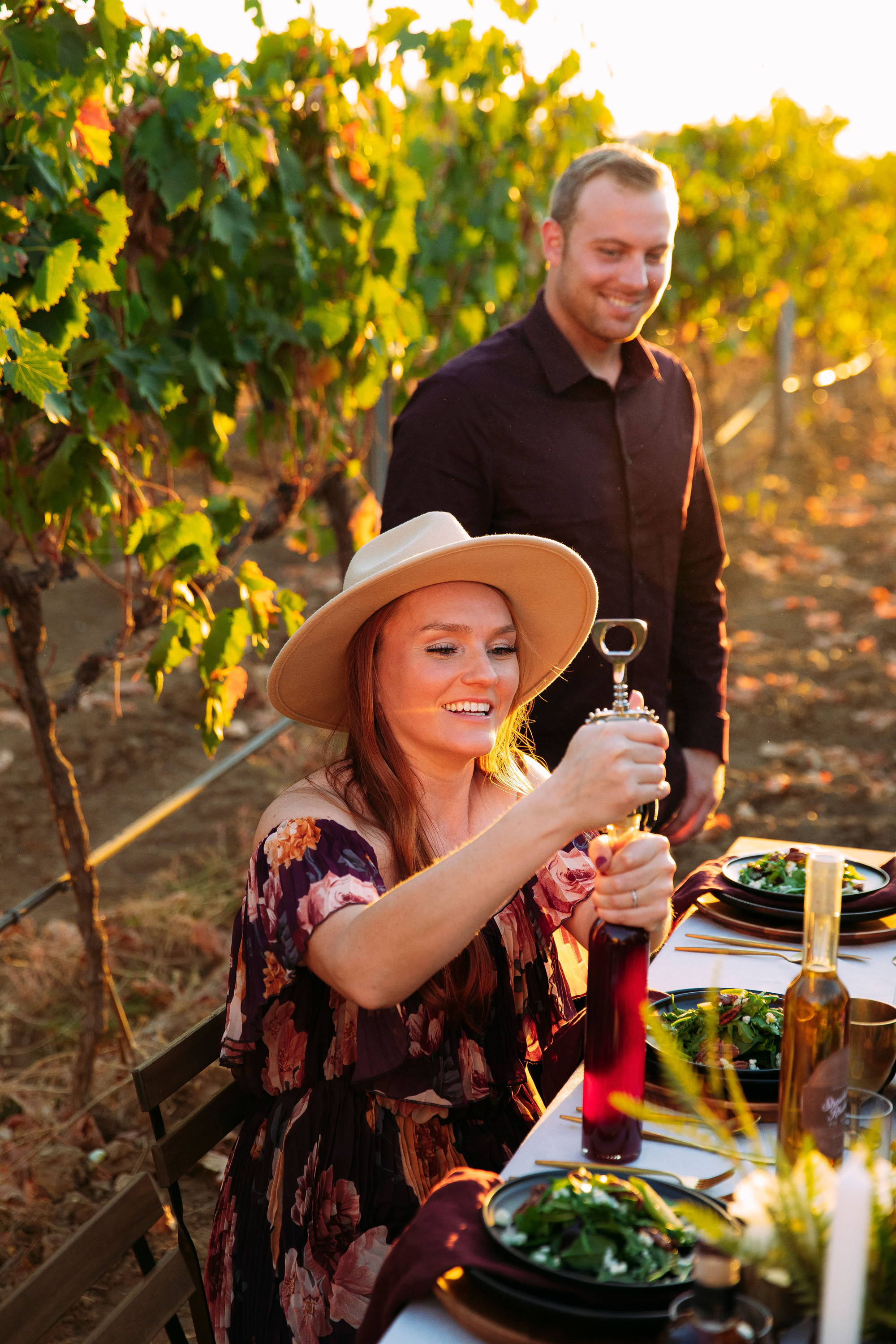 About Us
MEAD (HONEY WINE) IS A PASSION FOR US
We started Batch Mead in 2019 to leave our Silicon Valley tech careers and pursue our real passion, MEAD!
We love locally sourced honey, apples and other ingredients. We focus on small batches to keep taps rotating and deliver delicious meads and hard ciders.
We believe mead is an experience, and our tasting room reflects all the notes of that ideal experience.
We recently won Best in Show from the San Diego International Beer Festival (2020, 2021 & 2022)! As well as several other wine, beer & mead awards!