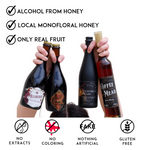 Our mission
We make small batch, craft meads made only from the BEST ingredients. We are incredibly passionate about mead and crafting meads that are crushable.
About Batch Mead
Hi! We're Derek & Danielle Busch, we opened Batch Mead in 2019 to share our passion for mead with the world. We're a small family owned business and we're so thankful for your support! See why we have over 400 5 Star reviews! ⭐⭐⭐⭐⭐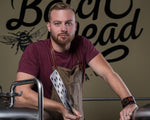 Award Winning Mead Maker
Derek has been crafting meads since 2013, with the mind of a chemist and the heart of a Viking, he's wracked up several awards, including Best in Show three years in a row from the San Diego Int'l Beer Competition.